I love Christmas but I also know that the Christmas season can be overwhelming. Too many things to do. Too many places to go. And too many good things to eat.  At the moment, Christmas is quickly approaching and that means COOKIES! I love all things sweet but Christmas Cookies are a weakness of mine. And my husband makes wonderful cookies so….
I'm so close to my weight goal–only a few more pounds to go. And it seems as if I'm surrounded by Christmas Cookies everywhere I go–except my WW meeting. I've been taking the all or nothing approach when it comes to Christmas Cookies this year, meaning nothing. An all or nothing approach isn't really helpful in most areas of our life and that's very true when it comes to weight loss. And I know that most of the time.
But this year is different. The last thing I want to do is sabotage myself but it's a bit overwhelming to think about NO COOKIES during the holiday season. That made me think about other times when I was overwhelmed.
One of those was when I worked as a speech pathologist for schools. Any job in the education field is a bit overwhelming but being a speech pathologist is certainly one of those because there's two parts to our job, first is to provide therapy for the students. But the other part of the job is to evaluate students who might need therapy as well as to provide ongoing evaluations to my current students while still providing service for my current students. Each year the evaluation process became more complicated and time-consuming, thus more and more overwhelming.
One of the things I learned to do was not to focus on all the evaluations that needed to be done during the year and making myself even more overwhelmed. Instead each month I would make a list of the students who needed evaluated that month–which made the process more than manageable. All the evaluations would get done on time!
That's when it came to me. I've been worrying about how to get through the whole Christmas season without Christmas Cookies. But I don't have to worry about saying no to cookies for the next 2-3 weeks, I only have to say no at the next event. It's about keeping the focus on the present and not worrying about the future. That's manageable–I can do that.
About now, you might be saying, "so what." Hold on, I'm getting there.
It's good to plan and have long-range goals but that's not always true for every situation. Sometimes, it's better to take the one day at a time approach. Losing weight is a good example, but I can think of others as well. Cleaning house is one. I don't like cleaning but if I focus on only cleaning a few things each day, it makes it manageable. And what about writing a book?
When I start to write a new book, I look at the completely blank screen and it's overwhelming. So I block that out and write the first word, then the first sentence, the first page, and before I know it I have the first chapter finished.
The holiday season can be overwhelming and before we know it, we've lost our Christmas spirit and that's no fun at all. So I suggest you make a list, check it twice, and then do the next thing that needs done. Focus on one thing at a time and enjoy the season!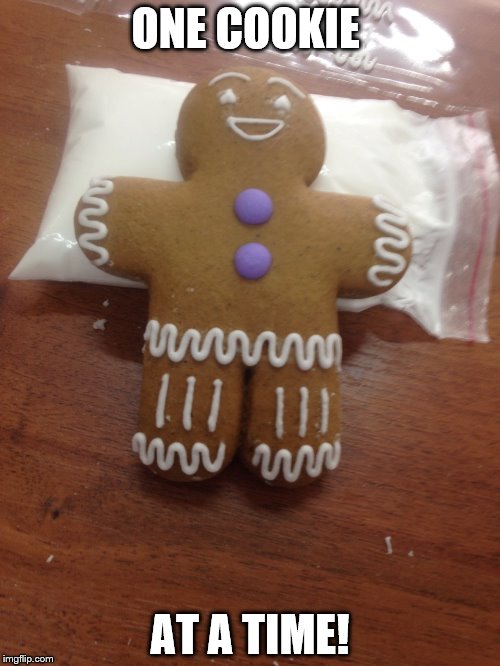 MERRY CHRISTMAS & GOOD READING!